Proclamation
National Director's Message – Mission Children


We were beginning a new year and it was also the time when our 'little missionaries' were celebrating the Missionary Childhood Associations (MCA) Day everywhere. Our National Director in his message extolled the cause of the creative mission of inspiring little children who in many ways are our teachers through their prayers, laughter and innocent profession of the faith. Igniting his awe at their capacity to bring out missionary zeal in adults, he even cited a testimonial from his priestly friend where-in a 'little missionary' wanted to carry openly her mite-box in her hands which had on it The Cross so as to let people know that she is Christian.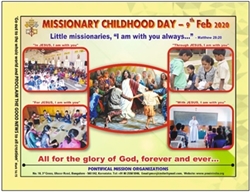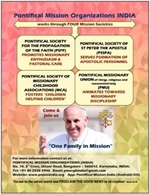 Exalting the need to encourage our children in their faith in the 'now' and not to look at them as products to be produced or manufactured to live only for the future, he wanted all the faithful to inculcate the aspect of mission in them and to grow their enthusiasm for it so as to root them deeply in the faith. He invited one another to realise the potential of children and to help them lead witnessing lives.

The message of the Holy Father for World Day of Peace titled 'Every war is a form of fratricide,' a summation of his Apostolic Letter on the significance of Christmas crèche titled 'Admirabile Signum,' his homily during Holy Mass on World Day of the Poor titled 'The treasure of Church' and his message for International Day of Persons with Disabilities titled 'Belonging and participating' were included in this edition.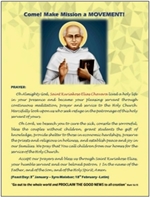 Other articles we included were 'The Lord bless us and keep us!' by Fr Albert Lakra, 'Mary, Mother of God' by Mr Mahesh H Lobo and 'Promoting digital child dignity' from a website. The teaching on the Historical Background of the Sacrament of Holy Orders from Fr Dr S Joseph Lionel provided guidance on the same.

For our children we had capsules on St Raymond of Penafort and St Milburga along with other regular features like Bible Quiz and a short story, this time titled 'The gift beyond imagination.' Regular News Round-up also continued.