Proclamation
National Director's Message – Christ wants us to be free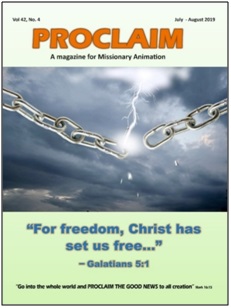 August is our Indian Independence month. To reflect the spirit of true freedom, our National Director in his message analysed the famous speech of our first Indian Prime Minister, Shri Jawaharlal Nehru, reflecting from related sentiments expressed by St Paul in his letters to the Corinthians and Galatians, besides also including references for explanation from the Catechism of the Catholic Church. 'Only in the assurance of our equality and freedom of conscience, could we choose our ultimate Good which is God' he had stated in the editorial. He encouraged the people of good will towards creation of free space from where right thoughts and the proclamation of the truth can serve the mission of what is good and just.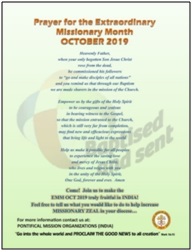 Continuing with the information sharing for the EMM celebration, we included the letter from Archbishop Dr Filipe Neri Ferrao, President of CCBI and the Chairman of the PMO Board of Trustees. This letter was already shared by him with the National Leadership teams. The rationale of the EMM, explaining the context of the celebration, the theme, logo, suggestions for preparation etc., had also accompanied his communication, which we shared in this edition.

The address of Cardinal Fernando Filoni, who was at that time the Prefect of the Congregation for the Evangelization of Peoples and the President of the Supreme Committee of the Pontifical Mission Societies, to the Annual General Assembly of the PMS was shared under the title 'Missionary Month, Catechist Formation, Renewal.' We included the address of Pope Francis to the audience of National Directors under the article 'We need to re-qualify'.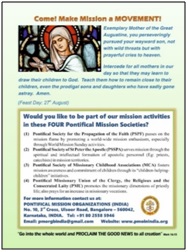 Another article of the Holy Father under the title 'Participating in Christ's Ministry' along with an article on vocations 'Every vocation is a call to love and serve' by Fr Dr I Raymond Joseph and one on the Sacrament of Matrimony explaining The Rite of Marriage by Fr Dr S Joseph Lionel, were some of the key thought provoking writings included in this issue.

The lives of St Bonaventure also known as the seraphic doctor and that of St John Eudes, a French missionary, were shared for our children to inspire their life of faith. Bible Quiz and a story titled 'The Teacup' were meant for enhancing their education. Other features like the News Round-up, Holy Father's Prayer Intentions continued.