Proclamation
National Director's Message – Mission Children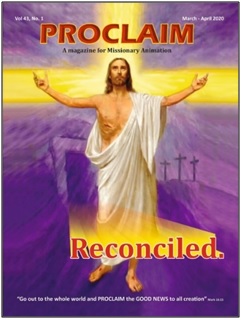 This was a Lenten edition and we were to be celebrating the Passion, Death and Resurrection of Lord Jesus. Our National Director in his message highlighted this holy season and contemplated on 'Death and Life – temptations, suffering, struggles and victory on the one hand, and purity, joy, witnessing and life on the other.' Explaining life as a passage and our passing from one phase to another, he encouraged that our suffering will also pass and that we shall see happiness after experiencing life through the pain and agony before it. He emphasised that although we may be predominantly tempted to avoid suffering in our modern society, Christ enlightens us through his life of the cross that such difficult times strengthen us and that God is very close to us at these times.

Lord Jesus was able to walk unwaveringly because he was conscious of the presence of his Heavenly Father with him through it all. His resurrection shows us that God is victorious over death and suffering and hence his life became a living witness for those who were around him, he encouraged.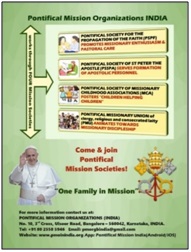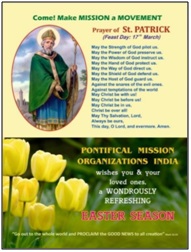 Holy Father's message for Lent 2020 titled 'The cornerstone of Christian life,' an article by Fr John Rose titled 'The Lord is risen, Alleluia,' another by Mr Mahesh H Lobo titled 'On our Lenten Journey' were all related to the season.

We also included the homily of Pope Francis on the occasion of the World Day for Consecrated Life titled 'Seeing what really matters in life,' his message for World Day of the Sick titled 'Not just curing but also caring,' his address to the participants in the plenary session of the Congregation of the Doctrine of the Faith titled 'Christian doctrine is a dynamic reality' which were all extracts from his guidance messages.

An article on the Sacrament of Holy Orders with a Part I on the Rite of Ordination by Fr Dr S Joseph Lionel was a continuation on our education on sacraments.

The lives of Saints, St Toribio Alfonso de Mogrovejo and St Zita of Lucca, provided a testimony on faith for our children. They also had the Bible Quiz and a short story titled 'The Elephant and the Fly.' Other News Round-up continued.