Proclamation
National Director's Message – Evangelization: The Joy of Sharing the Gospel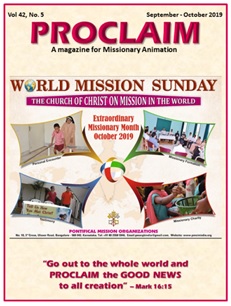 This was an EMM special edition with extra pages including the Liturgy for four Sundays in October 2019. We also included a capsule of the EMM programme, four dimensions, theme, logo and prayer so as to make it a ready reference for the nationwide celebration.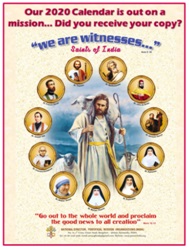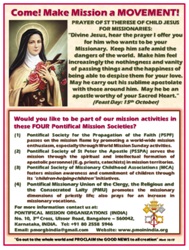 In his message, our National Director re-iterated the invaluable significance of Maximum Illud in the present context, our mandate as missionary disciples and the primary duty of a Christian in sharing the Gospel joyfully. He also highlighted the importance of contributions from the families as a Church through missionary zeal expressed in the celebration of the EMM all across our nation, following the four dimensions outlined by the 'Baptised and Sent' programme of the Universal Church. He encouraged all the faithful to participate as one family by getting involved with full vigour and enthusiasm towards making mission a lively proclamation movement during this month long mega-event.

St Marie Teresa Couderc and St John Paul II were "Saints of the month" for our children, while they also had their Bible Quiz and story titled 'Do not give up on your dreams' based on the inspiring life of Jessica Cox for thought provocation.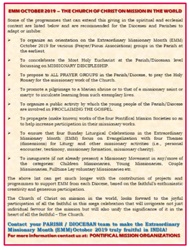 The message of Pope Francis for World Misison Sunday 2019 titled 'Baptised and Sent – The Church of Christ on Mission in the World' along with his homily on the Solemnity of the Most Holy Body and Blood of Christ titled 'To speak and to give,' his homily at the blessing of the sacred pallium of the new Metropolitan Archbishops on the Solemnity of Sts Peter and Paul titled 'Witnesses to life, forgivess and Jesus,' his homily at the Holy Mass for migrants in St Peter's Basilica titled 'Salvation and liberation,' together with his homily for the Feast of the Assumption titled 'Struggle, Resurrection, Hope' were all included in this edition.